Silver Spur Grill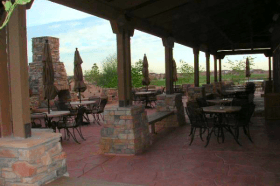 The Silver Spur Grill is located in the award-winning clubhouse at The Duke and is open for breakfast , lunch and dinner . Stop by and enjoy a leisurely meal on the patio with views of the Estrella Mountains and overlooking the beautiful 18th hole.
For info on any of these events, call (480)844-1100 x 2 or email.
Summer Hours
Sunday to Thursday: 7am-3pm
Bar Closes at 5pm
Friday to Saturday: 7am-8pm
New Menu Available
No Reservations Required on Friday Nights W/ The Exception of Large Parties. 480-844-1100.Anniversary or Birthday Party? For more details call (480) 844-1100 or email.